Put Request
Put Request, in this article i will step through the sample code on how to use a put request
This Article is an extension from this 2 article (1) (2)
Read the First and Second Article before you proceed to this article.
The Objective of this Program is to replace the existing content inside the "ingredients " Array by using the "Put " Request.
First , we need to use the app.put('/ingredients/:ingredientId',function(request,response) Put Request Function
the Above function means that when the User query the " http://localhost:3000 /ingredients/("The Ingredient Id") , the program will iterate through and find whether the Ingredient Id exist
If yes the the Program will update the Id with the new User Input base on the ID Provided by the User
" if(!text ||text ==="") " ,so if there is no text, tell the User , he or she need to input a text input.
else if the User input a text input "for(var x=0 ; x < ingredients.length;x++)" iterate through the ingredients array and find whether the Id exist or not
Let say during the Iteration , the program found the Object, update the New Value input by the User and break out of the For loop
The Program have found the Object Turn on the " objectFound = true;"
After Breaking out of the Loop tell if object not found , let the User knows the Error
If found the Object Print out the "ingredients " array list


var express =require('express');
var app =express();

var bodyParser = require('body-parser');

app.use(bodyParser.json());
app.use(bodyParser.urlencoded({extended: false}));

var ingredients=[
    
    {
        
        "id":"12345",
        "text" : "user"
        
    },
    
    
    {
        
        "id":"45678",
        "text" : "user2"
        
    },
    
    
    
    {
        
        "id":"8888",
        "text" : "user3"
        
    }
    
    
    
    
];

app.get('/ingredients',function(request,response){
    
    response.send(ingredients);
});


app.post('/ingredients',function(request,response){
    
    var ingredient = request.body;
    if(!ingredient || ingredient.text === ""){
        
        response.status(500).send({error:"Your Ingredient must have a String"});
        
        
    }else{
        
        ingredients.push(ingredient);
        response.status(200).send(ingredients);
        
    }
    
    
    
    
});



app.put('/ingredients/:ingredientId',function(request,response){
    
    var ingredientId =request.params.ingredientId;
    var text = request.body.text;
    
    if(!text ||text ===""){
        
        response.status(500).send({error:"You need to provide Ingredient Text"});
        
    }else{
        
         var objectFound = false;
         for(var x=0 ; x < ingredients.length;x++){
      
               var ing = ingredients[x];
      
                if(ing.id ===request.params.ingredientId){
                    
                    ingredients[x].text = text;
                    objectFound = true;
                    break;
                    
                }
          }
        
        
        if(!objectFound){
            
            response.status(500).send({error:"Ingredient id not found"});
            
            
        }else{
        
        
        
        respond.send(ingredients);
        }
        
    }

 

});
        
        
        
app.listen(3000,function(){
    
    console.log("My First API Running on port 3000");
});



Before Updating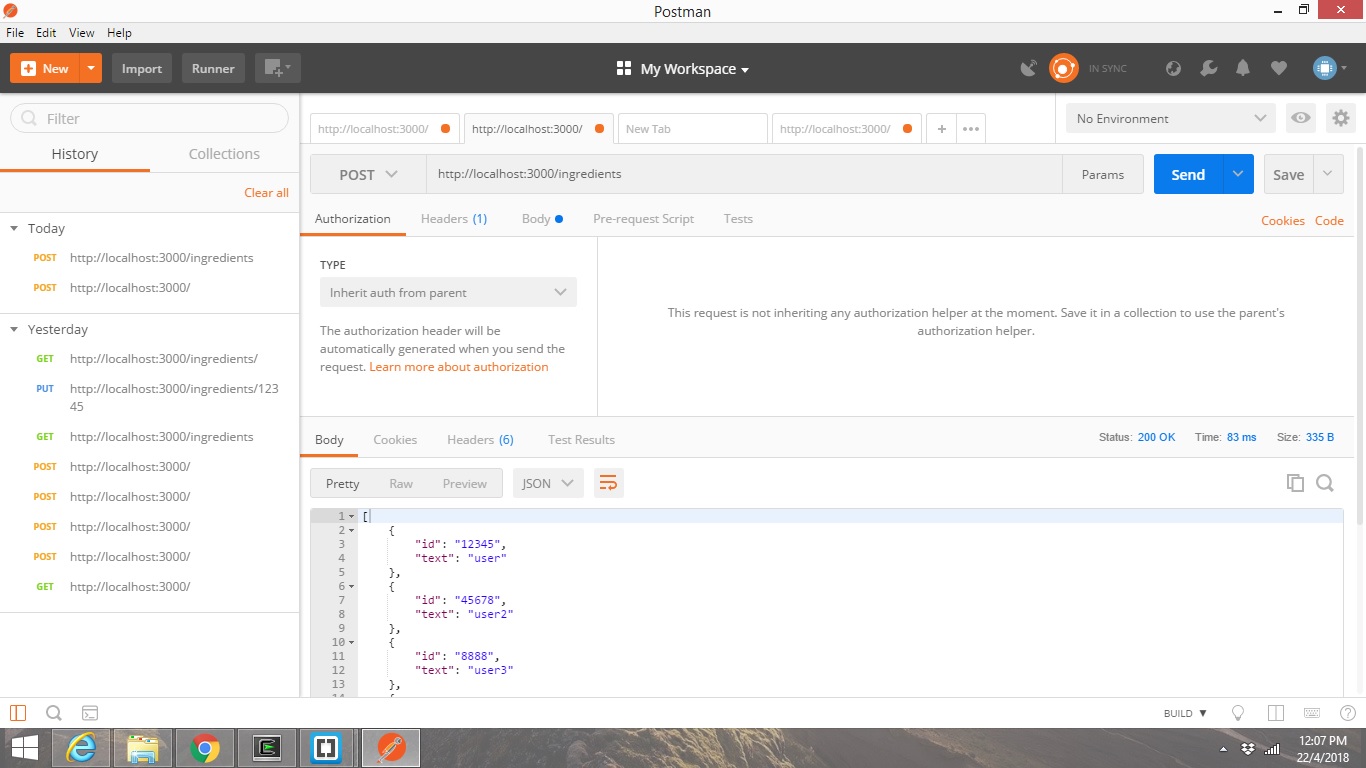 After Updating
After Updating the "User " text change to "Brian888"